URLLC in 5G Technology
Apr 16, 2023
[URLLC in 5G Technology]
Ultra-Reliable Low-Latency Communication (URLLC) is a critical feature of 5G networks that provides fast, reliable, and low-latency communication links between devices. URLLC enables ultra-reliable and low-latency communication for a wide range of applications, including mission-critical and latency-sensitive applications, industrial automation, smart city applications, public safety, and gaming. This technology is expected to enable new innovative services and applications, promoting technological innovation in various industries and providing better user experiences.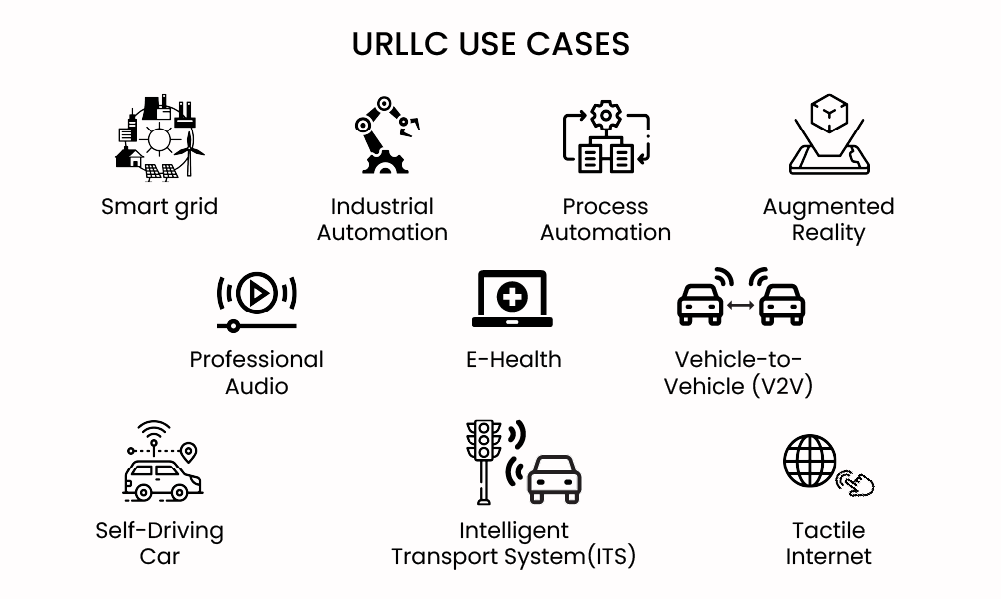 [VR and URLLC performance]
VR plays a decisive role in connecting most of these URLLC applications to user experience. VR applications require reliable, low-latency communication to deliver a high-quality experience. If there is too much latency between the VR headset and the device generating the VR environment, the user may experience a lag or delay in their movements, breaking the sense of immersion and ruining the experience. Additionally, URLLC technology can benefit from VR applications in several ways, such as remote training, where VR can simulate complex situations requiring real-time responses, allowing trainees to practice and refine their skills in a safe, controlled environment.
Combining AR (Augmented Reality) technology and VR technology, new technologies that fuse the real world and the virtual world are expected to be developed, allowing users to experience both at the same time. The combination of URLLC and VR has the potential to drive innovation in a wide range of industries, from healthcare to manufacturing, by enabling new types of applications that require low latency, high reliability, and immersive experiences.
[How to measure and validate latency in VR using Accuver VR solution]
Latency and delay are critical factors in URLLC, ensuring reliable and timely communication, and must be kept as low as possible to meet the stringent requirements of URLLC. Latency is the time it takes for data to travel from the source to the destination, while delay includes the additional time spent waiting in buffers or queues along the way. Both latency and delay can occur anywhere on the device, network, system, and application level.
[AEGIS VR]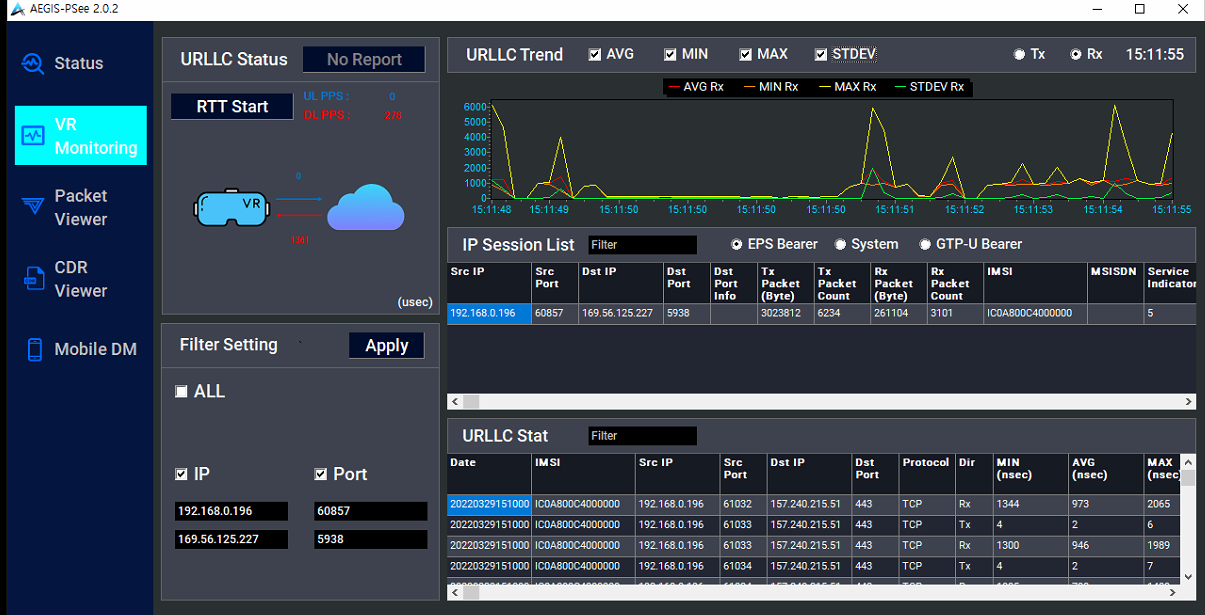 AEGIS VR, provided by Accuver, offers users a solution to measure and display URLLC performance of VR applications, measuring packet transit time between nodes or systems, as well as overall delay. It intuitively displays the delay measured while using the VR application in real time on the graph.
[VR Traffic and Delay Monitoring]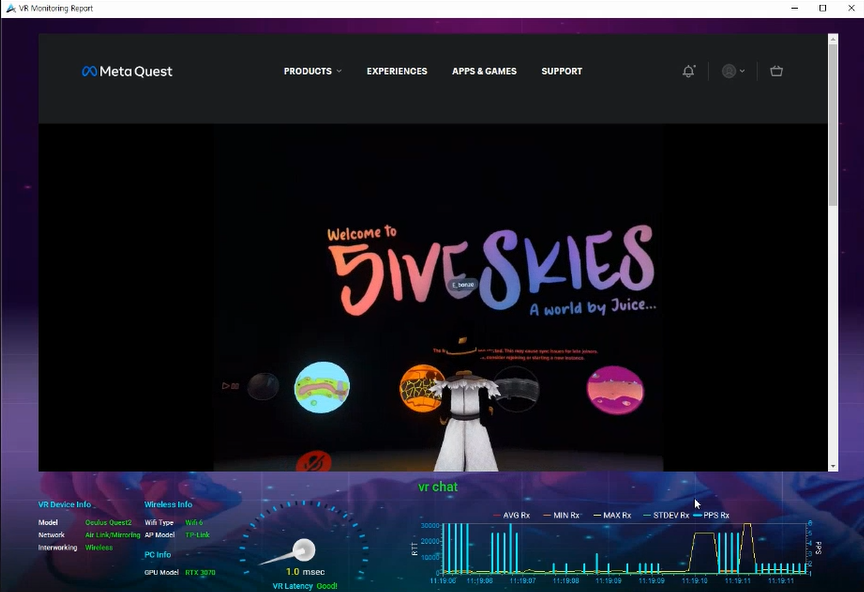 AEGIS VR logs and analyzes each VR data session in detail, identifying the nodes or channels that cause critical delays. It also analyzes QoS and QoE, including packet loss and jitter. In the Packet Viewer, users can view network monitoring messages, data packets, and more, and analyze the packet flow for any specific time period using XCAL.
[Packet Viewer]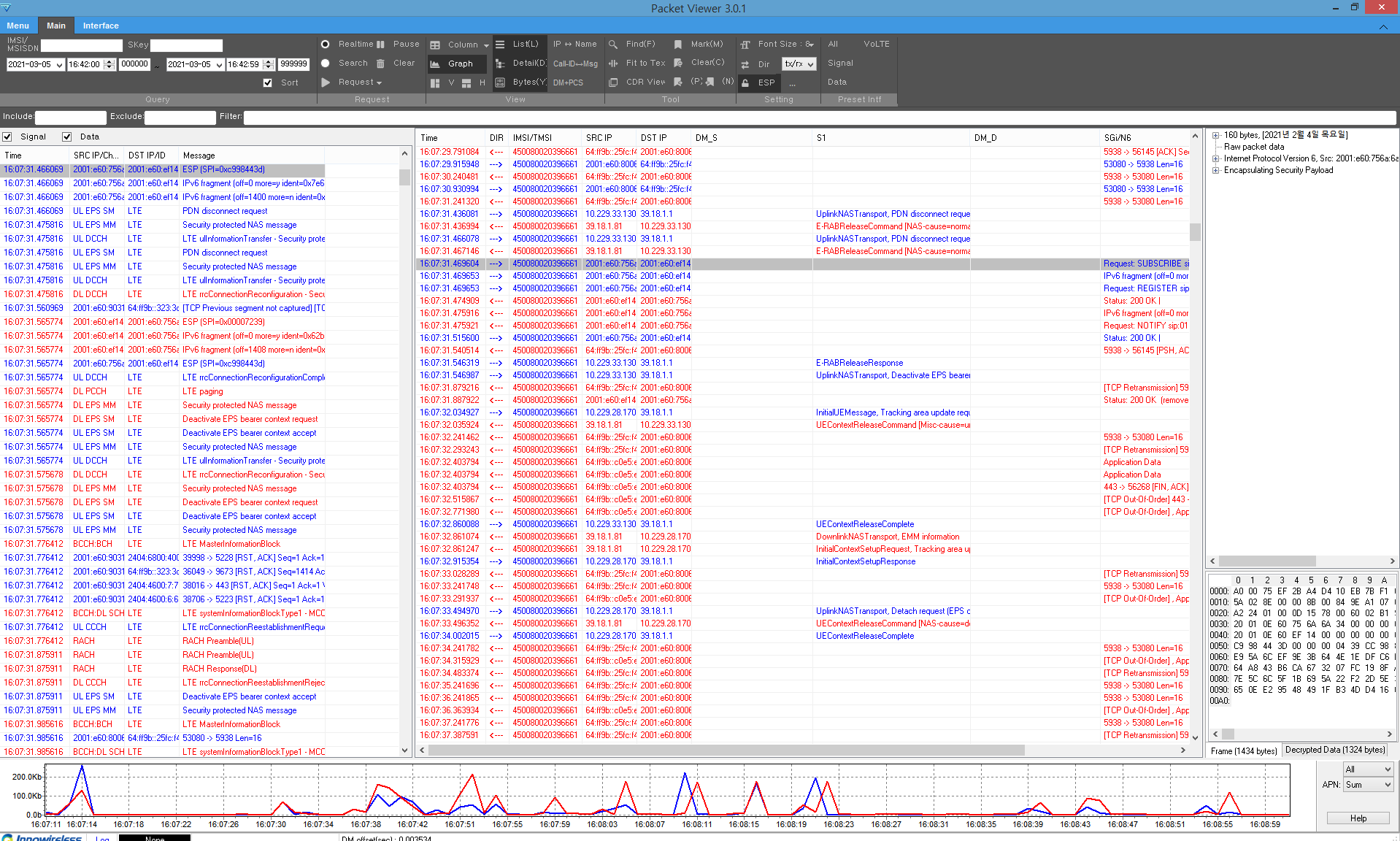 Auto Report provides users with the overall UL/DL delay results for a specific session.
[Auto Report]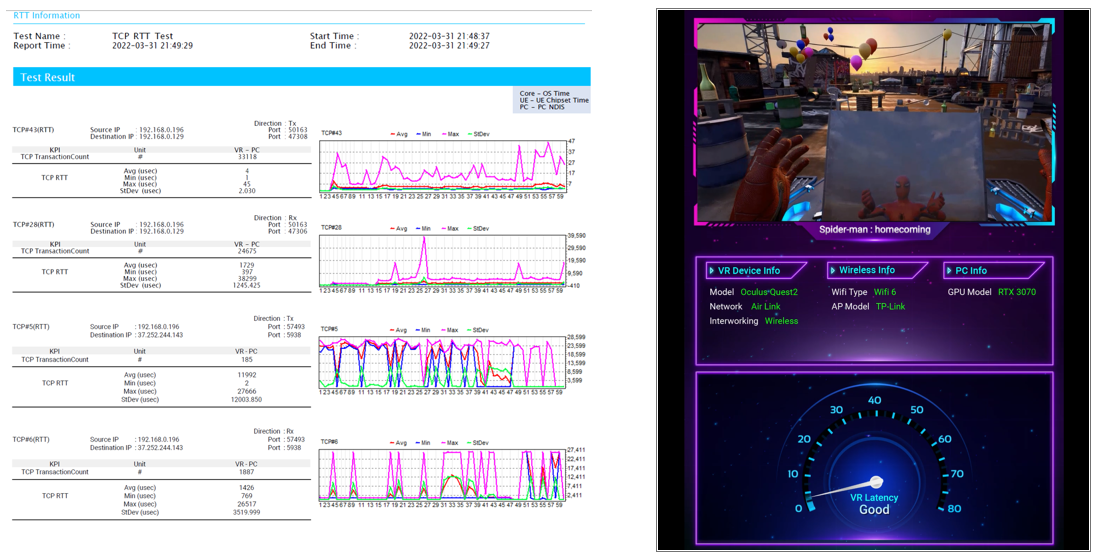 [AEGIS VR verifying sectional and end to end URLLC Performance]
Latency can manifest at various points in the end-to-end communication process, including the device, Radio Access Network (RAN), core network, and content server in both wired and wireless environments. To identify and rectify latency-related issues, it is necessary to perform a comprehensive analysis of each of these sections by capturing packets and examining their characteristics. This process helps to pinpoint the root cause of the latency and take appropriate corrective measures to optimize network performance.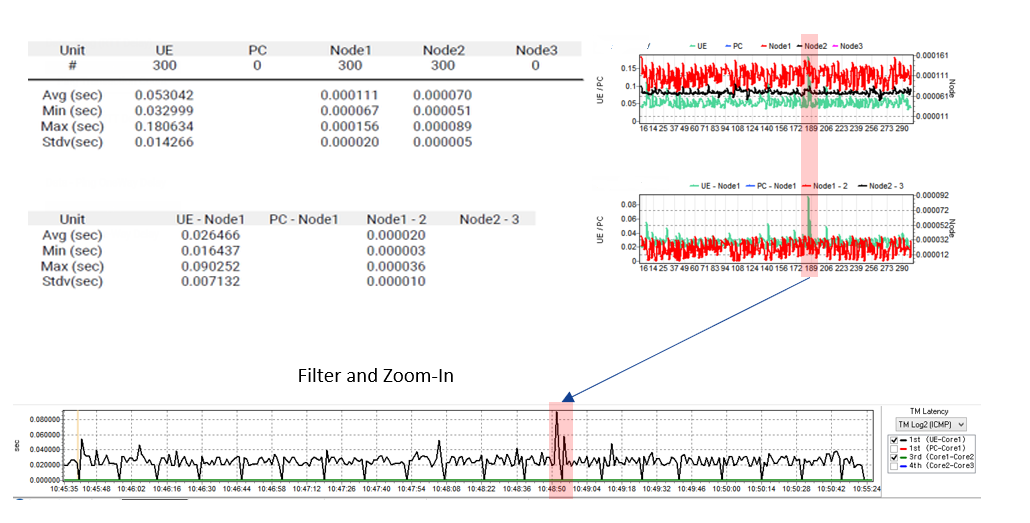 AEGIS VR is equipped with sophisticated features for measuring delays and analyzing packets across various segments of the communication process, spanning from the end device to the wireless network and the core network. The solution enables independent measurement and analysis of latency in diverse devices such as mobile devices, VR equipment, and PCs, across different wireless network segments, including 4G, 5G, and WLAN, as well as wired network sections that traverse from the core network to the contents server. The advanced capabilities of AEGIS VR facilitate a comprehensive assessment of the end-to-end communication process, helping to detect and resolve latency-related issues with utmost precision and efficiency.
Accuver's state-of-the-art solution, AEGIS VR, is a game-changer for customers seeking to verify the performance of their 5G systems. With AEGIS VR, you can meticulously evaluate the delay of your 5G system, section-by-section and overall, enabling early detection and remediation of issues that could impact 5G Ultra-Reliable Low-Latency Communications (URLLC). This cutting-edge technology empowers you to optimize your 5G network for maximum performance, ensuring seamless, uninterrupted connectivity and an exceptional user experience. Discover the transformative potential of 5G technology with Accuver's AEGIS VR.

List