Accuver XCAL-Solo III supported the study published in IEEE Internet of Things Journal
Writer : admin
Date : 2023.10.27
Hits 494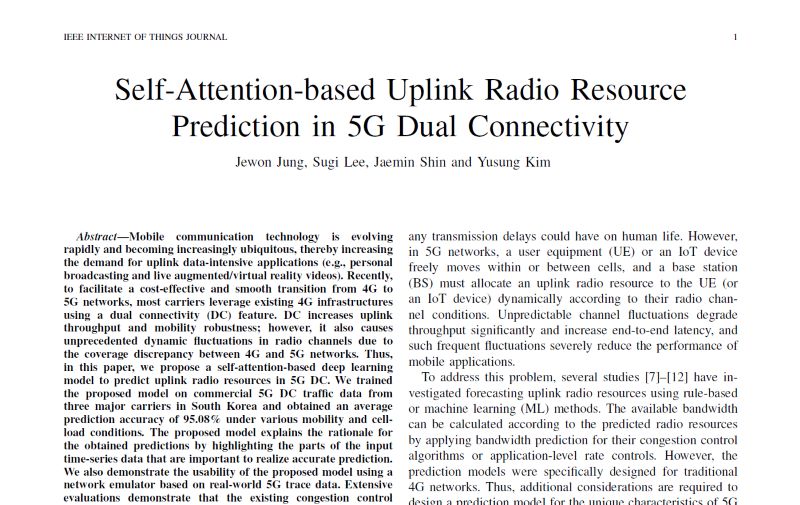 Sungnam, Korea - October 27th 2023 - Accuver XCAL-Solo III has played a pivotal role in supporting study recently published in the IEEE Internet of Things Journal.
The study, titled "Self-Attention-based Uplink Radio Resource Prediction in 5G Dual Connectivity," presents a practical self-attention-based deep learning model for predicting uplink radio resource allocation in the context of 5G Dual Connectivity (5G DC).
The Accuver XCAL-Solo III, a cutting-edge tool in wireless communication technology, was an essential component in this research effort. It was employed to collect a significant amount of training data and conduct comprehensive measurements of 5G DC traffic. These measurements were carried out over the commercial Non-Standalone (NSA) 5G networks operated by three major Korean carriers.
This study represents another example of how the Accuver XCAL-Solo III contributes to advancements in the field, providing practical solutions for real-world challenges in wireless communication.
For further information and inquiries, please contact sales@accuver.com.
About Accuver
Accuver is a leading provider of wireless test and measurement solutions that optimize the performance and reliability of mobile networks. Working with all major network operators, infrastructure vendors, chipset manufacturers and wireless equipment OEMs, we measure, troubleshoot and optimize network performance and wireless service delivery. This involves a seamless blend of user insight, design innovation, software development, cutting-edge engineering, and support services.